Archive for May, 2022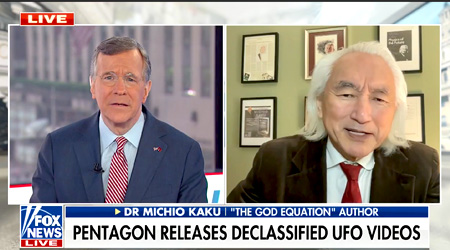 The United States hosted the first public hearing on the subject of Unidentified Flying Objects (UFOs) in decades, declassifying over 400 videos and related findings. Most of these strange crafts appear to defy the laws of physics as we know them. So what are we looking at? Professor and theoretical physicist, Dr. Michio Kaku appeared on-air on FOX NEWS to discuss these developments. WATCH NOW!
For the first time, astronomers have captured an image of the supermassive black hole at the center of our galaxy, known as Sagittarius A* — the beating heart of our Milky Way galaxy. The discovery was made possible by more than 300 researchers from 80 institutions working with a network of eight different radio telescopes around the globe that make up the Event Horizon Telescope. Physicist/Futurist, Dr. Michio Kaku, author of the bestselling book, THE GOD EQUATION: The Quest for a Theory of Everything appeared on CNN to discuss this fantastic first time direct observation. WATCH NOW!