All Entries Tagged With: "augmented reality"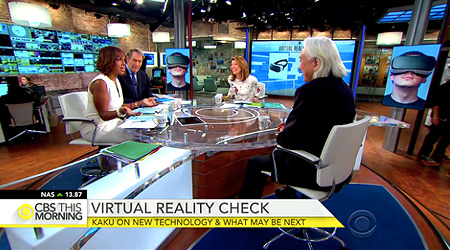 Projected revenues from virtual reality and augmented reality are expected to reach $120 billion by the year 2020. What will the future of this advanced technology look like? How will it change the way we live, work, and communicate? CBS News science and futurist contributor Dr. Michio Kaku joins 'CBS This Morning' to explore this new frontier and to see why Kaku says VR is the "next big thing." WATCH NOW!
When Richard Quest, host of CNN's 'Quest Means Business' invited Dr. Michio Kaku to appear on his show to share his visions of the future, Dr. Kaku was happy to oblige. Touching on subjects that leap from the pages of his latest New York Times Bestseller, THE FUTURE OF THE MIND, Kaku and Quest explore the spectrum of breakthrough ideas and inventions on the horizon, from augmented reality to augmented physiology.
WATCH NOW! and stay tuned for another installment in January 2015.